Firewood

All wood prices include delivery of full cords within 10 miles of  our shop in White Mills PA 18473.  We use Google Maps to determine the distance from our yard to your address.
Our wood for indoor burning is a seasoned mix of hardwood species.  That means the wood could be Beech, Oak, Maple, Walnut, Hickory, Cherry or a combination of all.  
For the heat content, or BTU rating, and weight per cord, please visit Firewood Resources. 
We also have seasoned Pine for outdoor burning.
Under PA law 61 Pa. Code §§ 52.1 and 58.1 firewood for residential heating use is not taxable.

Firewood Pricing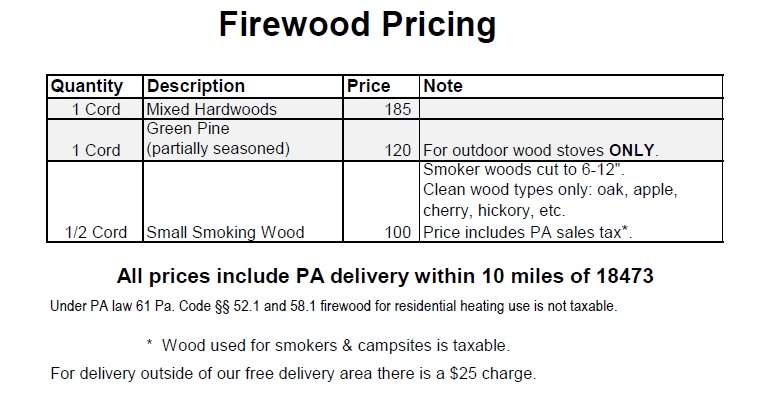 *  Wood used for smokers & campsites is taxable.
Upon request, Apple Creek will stack the wood for an additional $40 per cord.  Please be aware that our crew can not carry wood up or down stairs to stack.
Do you or a family member think you may meet the criteria for home heating assistance?  Check with the PA Department of Human Services to see if you qualify for the Low Income Home Energy Assistance Program (LIHEAP).
Apple Creek Landscaping LLC is a participating LIHEAP fire wood vendor.
Return to Pricing.