Reviews
Read selected reviews here to discover what current and former clients think of Apple Creek Landscaping's service.
With so many different places to review businesses, it can be a hassle to investigate them all.  For your convenience, we have selected several from across several platforms to display here.
Some of these sites have additional reviews, click the title link to see them all or leave a review of your own.
Brenda L. submitted a 5 star review with the comment "Great! I will surely call them again. Dave way professional and helpful in my understanding what was needed to take care of the land and trees around my house."
December 2020 - Linda Y gave us 5 stars for "Responsiveness & Value"

January 2019 - Jodena R. gave us 5 stars and said "Yeppers. Called for a cord amid a snow storm an he said "how soon do you need it!" Don't mind handing him my money." in her review.
October 2018 - Debbie C. said "So grateful to find a friendly and reliable local tree service that responds immediately and works quickly and efficiently! Dave and Jennifer were great to work with and kept me updated on the progress of our jobs. Highly recommend them!" on her 5 star review.
No reviews on BuildZoom yet.
George P. wrote "I have used Jennifer R's company, Apple Creek Landscaping, many times and each time was a very satisfied customer. Not only are they professional and do a great job, they are on time and reliable. I have had a few experiences with other landscapers not showing up for jobs and until I found Apple Creek Landscaping I was very frustrated. I would highly recommend Apple Creek Landscaping for any of your landscaping needs." in his review.
Brad & Patricia B. said "Jennifer R. and her company are a Treasure! We have been in our home for 15 years and never been able to count on companies even showing up! Jennifer and Apple Creek Landscaping changed all that.! They surpassed all of our expectations. We will be calling on them again. The workers were great! Our trees look wonderful and the yard was left clean. The stone work was beautifully done and just what my husband wanted. Jennifer is a true professional. The contracts were precise, the explanations clear and accurate. A true pleasure to deal with, Thank You!" in their 2020 review of Apple Creek.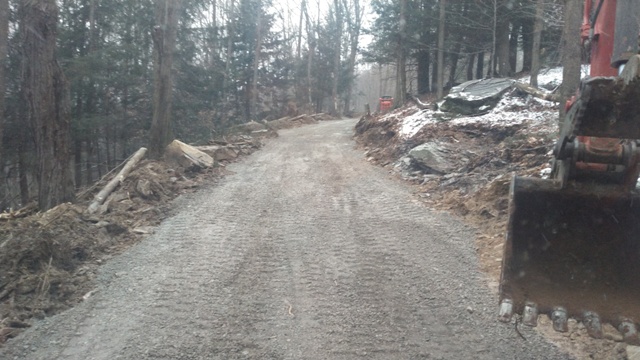 New Gravel Driveway Installation
February 2020 - Christina M., a local Realtor, said "I called on David & Jennifer for a major Home Clean out and Clean up project - Their work was ON TIME, ON Budget, and my Homeowner is VERY HAPPY!! They provided me with suggestions and other vendors to help me in other ways to prepare the home for sale! HIGHLY RECOMMEND ! !" in her 5 star review.
2017 - Marianne S. reported "Dave does great work. My front yard has never looked better. Thanks again!!!" in her review.